INGREDIENTS
beetroot puree
carrot puree
onion puree
bell pepper puree
sunflower oil
common edible salt
dried parsley
tomato paste
ground black pepper
natural food additive rosemary extract (antioxidant)
curry
Expiry date is 12 months
Product of the "Home cuisine" line is made using the unique production and package technology which until recently was available only for the solution of the problems of providing space stations and confidential army divisions with qualitative products.
This is new product line of the modern, 100% natural and ready-to-eat cream-soups, made of legumes and vegetables. The "Home Cuisine" products are made for those, who don't want to waste their precious time and prefers natural home cooking.
Nutrition and energy value
CONTENTS IN 100g
(AVERAGE)
GRAMME
Proteins
7,5
Fats
5,0
Carbohydrates
9,0
kcal
110
kJ
470

Beetroot is of exceptional nutritional value. It is an excellent source of vitamins C, B, PP, betaine, iodine, magnesium, potassium, calcium, iron, copper, phosphorus and bioflavonoids. Beet is a unique vegetable because it combines a set of nutrients that are not susceptible to destruction during high temperature cooking. Also beetroot is rich in fibre, so it is exerting favourable effects on bowel function.
Net weight: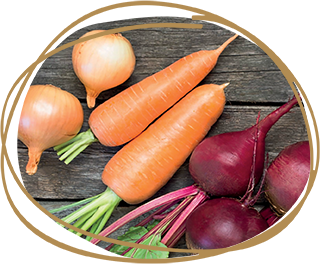 All modern species of beet come from the wild beet growing in the Far East and in India which was consumed from ancient times. The first mentions of beet are carried back to the Mediterranean and Babylon where it was used as an drug and vegetable plant.
Historically people ate only its leaves, and roots were used in the medical purposes. Crop forms of common root beet appeared by the beginning of CE.